Water Rates
Water and Sewer rates are flat rates in the Village of Debden. These rates are billed for two successive months.
See Connection/Disconnection Fees 
Application for Water Connection
Waste and Recycling
Garbage Pick up is Every Tuesday
As per Bylaw 10/2006, the Village of Debden residents are allowed one free bag of garbage under the "Bag & Tag" Program.   Additional tags may be purchased at the Village Office or Demers Shopping Centre for $1/bag.
Recycle bins are located on Main Street.
In 2003, the Village of Debden entered into an Inter-Municipal Agreement with the Village of Canwood and the R.M. of Canwood for the acquisition and operation of Highway 55 Waste Management Corporation for their waste and recycling needs.
Please visit hwy55waste.ca for an updated list of products that may or may not be recycled.  Please ensure that no garbage enters these bins.  Residents are reminded to flatten all cardboard boxes to reduce the amount of tipping charges incurred by the taxpayers.
Landfill: See: hwy55waste.ca 
Landfill hours: 9:00-5:00 Monday to Saturday
Closed holidays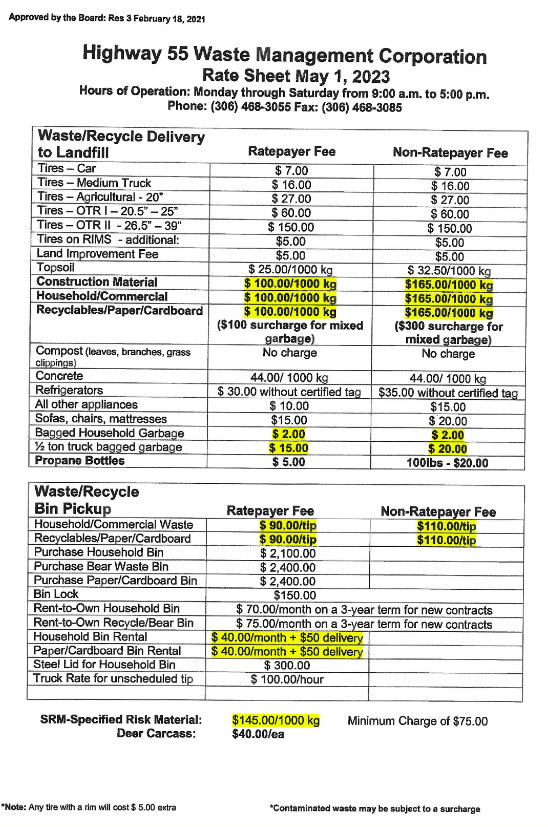 Email Consent Form
The Village of Debden offers residents the opportunity to receive specific municipal notes as attachments in an email, rather than by regular mail.
See PDF form
Annual Reports
Village of Debden Precautionary Advisory
Whenever the water in the Village has been compromised, for example a water line break, problems at the water treatment plant or depressurization of the water line a precautionary boil water issue will be issued by Sask Water. If at any time the water is turned off please take the precautions of the boil water advisory. It is always better to be safe. The Village of Debden will place posters at all the businesses as soon as the advisory has been issued and as soon as it has been rescinded. After each precautionary boil water advisory, samples must be sent to the lab to be tested for contamination. Most boil water issues will last from 4 to 10 days. Please keep this notice so you have it handy for anytime the water is turned off. If you have questions regarding this please call the village office at 306-724-2040.
Precautionary Drinking Water Advisory
Therefore, pursuant to Clause 32(1)(b) of The Environmental Management and Protection Act 2002, consumers must be notified to:
Boil all water, used for drinking purposes, for at least One (1) minute, at a rolling boil, prior to usage;
Boil water to be used for other activities where it may be ingested, including:
(i) brushing teeth or soaking false teeth;
(ii) dish-washing, unless sanitized in another fashion;
(iii) washing fruits and vegetables;
(iv) food or drink which will not be subsequently heated; and
(v) ice cubes;
Not drink from any public drinking fountains supplied with water from the public water supply;
Under most circumstances, you do not need to boil water used for other household purposes. Adults, adolescents and older children may shower, bathe or wash using tap water but should avoid swallowing the water. Laundry may be washed in tap water, either by hand or by machine.
Ensure that younger children and infants are sponge bathed;
Use an alternative water source known to be safe, if they do not wish to boil the water; and
Consult with your physician if you have cuts or rashes that are severe before using the water.
If you require any additional information,
please contact the Village of Debden (306) 724-2040
Other contacts:

Prince Albert Parkland Regional Health Authority (306) 765-6600
Environmental and Municipal Management Services Division – Prince Albert (306) 953-3369
Water Security Agency – Communications Manager (306) 694-8914 – for Media Inquiries