Our Lady of Fatima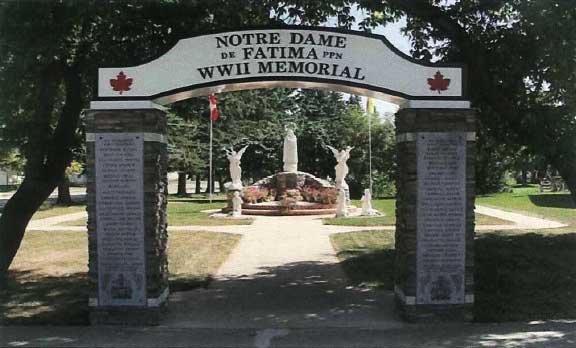 In the Village of Debden, the same as all regions of the country, we had young men that were called to enlist or volunteer into the army, air force or sea cadets. Mgr. J.E. Joyal was the priest serving Debden at the time of the 2nd World War. He was very devoted to the Virgin Mary. He consecrated those young men to the Virgiin Mary and vowed that if she had them all return home alive, he would have a shrine built in her honour. While the soldiers were away fighting the war, Mgr. J.E. Joyal decorated alters of the church with pictures of the soldiers to help the parish remember them in their prayers. Through all the prayers all soldiers returned home, none were wounded. A shrine of "Our Lady Fatima" was built in the years 1945-1949.
The Belssed Virgin Mary, the Mother of God, appeared 6 times to 3 shepherd children; Lucy, Francisco and Jacinta; between May 13 and October 13, 1917. She came to the little village. The parish St. Jean Paptist Knight of Columbus have taken on the project to renovate "Our Lady of Fatima" shrine.
After many fundraising projects and donations, work has been on-going. New pillars were made at the entrance with the names of the 49 men who went to World War II.